Tournament Name: 2009 US OPEN TENNIS CHAMPIONSHIPS
Location: NEW YORK, NEW YORK, USA
Dates: AUGUST 31-SEPTEMBER 13, 2009
QUALIFYING: AUGUST 25-28, 2009
Prize Money: US $10,006,000
128 DRAW


1st round Marat Safin lost to Jurgen Melzer :
1-6 6-4 6-3 6-4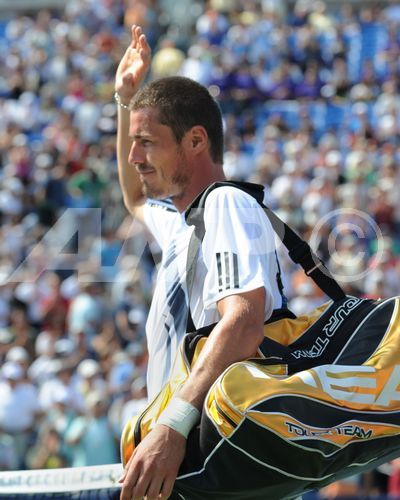 CREDIT TO SUNNYSMYDELITE AT MTF
http://www.menstennisforums.com/showthread.php?t=135102&page=77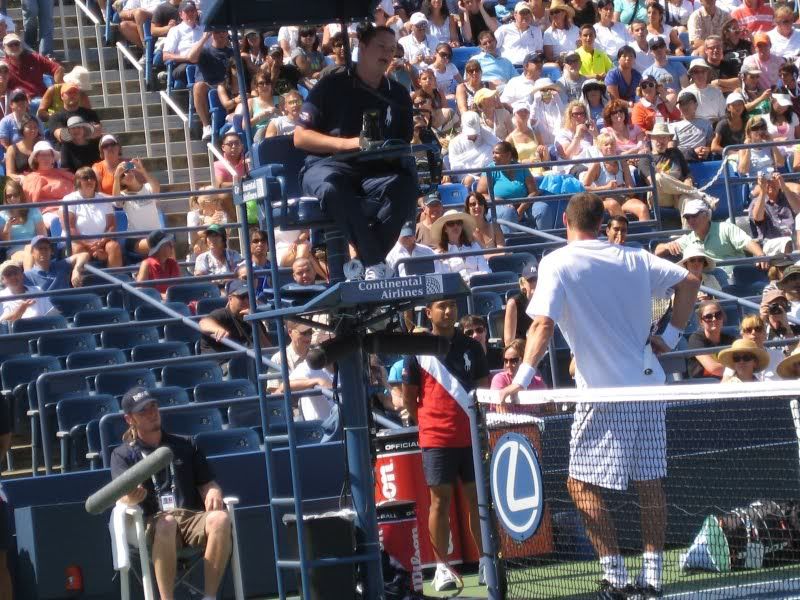 Post-match press conference:
(賽後記者會)
J. MELZER/M. Safin
1 6, 6 4, 6 3, 6 4
THE MODERATOR: Questions, please.

Q. Bit embarrassing, because we don't know how is your mood. Would you say it could have been the last one? Is it the last one?
MARAT SAFIN: Yeah.

Q. What is your feeling right now for both situations, the loss and the last Slam?
MARAT SAFIN: It's okay. It's the end. So just it's the last one. Could have been better ending, but still okay. I'm looking forward to afterwards my career, so I have no regrets.
And I don't care about losses anymore.

Q. How do you feel about...
MARAT SAFIN: I have no worries about it at all.

Q. I'm just asking.
MARAT SAFIN: I'm just answering.

Q. Your emotion, do you feel on the court?
MARAT SAFIN: No, I have been doing for a long time, and I've been kind of struggling for some time. So for me, it's just new stage in my life. Basically I'm taking I'm retiring, so my head is already in afterwards tennis rather than here.

Q. You're going to play some more tournaments in your career?
MARAT SAFIN: Well, I'm still five tournaments to go, so I will play a few.

Q. How do you feel about that huge public support?
MARAT SAFIN: It's always nice. Throughout my career just so many fans that have been following me, and they been loyal to me. It's have I very nice feeling. Even today, a lot of people came and they cheered me on.

Q. If you had to go back and change one thing in your career, aside from not getting injured...
MARAT SAFIN: Nothing. Absolutely nothing.

Q. You'd do it the same way?
MARAT SAFIN: Yes.

Q. What's been your favorite site on the tour and your least favorite?
MARAT SAFIN: Well, they just all different. I cannot pick one for anything. Just some good moments; some bad moments. I cannot really pick one. I don't want to.

Q. Best spaghetti on the tour?
MARAT SAFIN: Definitely not here. No, I think it's all the respect to Italians, I'd go with Italy. They have done very good thing. (LOL
)

Q. When did you decide that you were going to retire? Was it something you thought about? Went back and forth on? Or you just sort of one day said, You know, what, this year is it. I'm done.
MARAT SAFIN: Well, last year I was just I thought that was it, but then my manager called me, so he gave me a great offer to play for another year, so I gave it a shot. But now I have just decided it is my last one.

So I was all ready since, basically since November last year. It's gonna be my last one. There is the fantasy that I gonna return back.

So I want to stick to it. I'm happy what I'm doing. I'm okay with it. I'm okay with the decision.

Q. What is so boring for you now that you don't want to play tennis anymore? About tennis, I mean. You did many things. You played so many years. But still, some people, Agassi played until 36; Connors 39. So they were probably different.
MARAT SAFIN: Probably not. They are they're just different.

Q. They're different. So what is different? Why is it boring for you to keep playing? I mean, you say, I want to change. I want to go and live another life.
MARAT SAFIN: Why it has to do with being boring? Boring is not the right word. I think it's just enough. I achieve what I want to achieve and I want to continue with doing something else.
Has nothing to do with it being boring or not. Just I want to decide I decided I want to do something else, which is, I think, fair enough.

Q. What are you going to do?
MARAT SAFIN: I will see. But definitely I want to get out a little bit of tennis scene and try something completely different. I have plenty of time to think about it.

I just felt like it's it's been a long ride, so I need some time off, you know. It's enough. It was a great 12 years of my career. I don't think I played five years and I retired. I've been around for a long time.

Q. Djokovic said yesterday you told him you were going to go and climb a mountain South America; is that right?
MARAT SAFIN: Djokovic has the breaking news, huh? (Laughter) I think he should stick to his tennis and keep his mind into tennis instead of giving up my private life. (laughter.)

Q. Stefan Edberg, when he retired, he announces it a year before he did. He had a farewell tour.
MARAT SAFIN: Yeah, and he was getting tired of doing it every week.

Q. Very tired.
MARAT SAFIN: Bye bye, bye bye, and bye bye again.

Q. How do you feel now? You wish you hadn't said it beforehand?
MARAT SAFIN: No. No, thanks. I don't want to be in his shoes for sure.

Q. Do you wish you would have waited till the very end to say you were going to retire?
MARAT SAFIN: Well, kind of, yeah. It's too many questions about what I'm going to do, why I'm retiring, and this and that. So I answer the same question, I don't know, a thousand times.

Just go on Google and you have the same answer. Somebody want to hear it one more time. But it's okay. Few tournaments to go, so I can manage.

Q. I'm sure you will not miss some of the questions. What will you miss most from the tennis?
MARAT SAFIN: Good question.

I think I need to get away from tennis for some time to realize what I will miss, what I'm missing about it. Right now, just difficult to decide what exactly I will miss. Because it's great traveling. It's pretty great life.

But also it's in one way. In second way, in a different way, you have to practice. You have to go to the courts. You have to, like for example, here first few days it's like a zoo. It's like a million people running around, brothers, sisters, mothers, fathers, grandmothers, so many people. That's pretty much annoying.
But at the same time you know you're going to New York and it's beautiful town. You're staying in good hotels. The people, they treat you well. You get the car service, which I think is great. You go to the great restaurants.

You can spend don't have to think how much I can spend on my dinner. So it gives you a good life. You have to pay for it being here on the court and stress out. 4 All in, I don't know, third set, the tiebreak, but you have to work your way through.
I will be able to give you a right answer in a year or so.

Q. So you once said that if it weren't for tennis you'd be picking up bottles in a park in Moscow.
MARAT SAFIN: One of the options, yes.

Q. So overall, it's been worth it? All the travel that you have?
MARAT SAFIN: Of course, definitely. Yeah, it gives you freedom. I mean, I worked my way. There wasn't a rich father or rich family that paid for everything that I have right now, so I worked my way. I'm really proud of myself that I really made it, and I made it myself and I'm supporting my family. I help my sister, and everything I achieve is thanks basically to the occasion, to the sport.

Q. Great achievement?
MARAT SAFIN: So I think...

Q. Will you stay here to watch your sister's matches, and how do you feel about how she struggled in her match?
MARAT SAFIN: I really love my sister, but I think she can manage without me. I think she has quite a few people to help her out.


Q. Yesterday she was asked though if you had given her any advice about the difficulty of being No. 1. She said, Sometimes I don't understand what my brother says. So could you tell us what the advice was? What advice would you give her?
MARAT SAFIN: I wasn't there for a long time, so I cannot give her any advice at all.

So I think she just needs to enjoy it while it lasts. Just enjoy it. I think it's difficult to be No. 1. There's too much attention, too much expectation from other people. You want it or not, you gonna listen one way or another.

If you read newspapers, if you watch TV, everybody is talking about you basically. That sometimes is not easy to some people they have sometimes people, they can be harsh on you. You need to really stay cold and do your thing and try not to pay attention to that and enjoy it.

So it's pretty difficult, especially for women.

Q. Your match against Pete in the final here, where does that match fit into your career, do you think? How do you view it now that you look back on it?
MARAT SAFIN: Well, just this match was just a miracle for me. I didn't expect anything from this year, because I started 25; i dropped to 45; and then like in three months I was No. 1 in the world. I beat here Sampras, and I really didn't believe I could get anywhere closer to the final of a Grand Slam.

And then after beating Sampras, I never really understood what happened, some time to have a chance to think how big this thing really was.

It was difficult, because I was also 20 years old. I wasn't ready for this, so it's really difficult to understand it. I don't know if you understand me, but it's really you're not ready for this. I wasn't prepared.

Q. So Marat, was the victory in Australia in 2005 more satisfying?
MARAT SAFIN: It was more satisfying, I guess. It was very important for me to win the second one. I was two times in the finals and couldn't make it. I was very close to semifinals in French Open that I should have won. Well, just second one was really, really important for me. Thanks God I achieved it and everything went smooth.

Q. Do you think you have changed a lot as a person all these years?
MARAT SAFIN: Well, I don't know. Maybe a little bit more experience for sure. Traveled so much, so much traveling, so I guess you learn something. Yeah. Experience.

Q. If the young Marat Safin could see Marat Safin now, what do you think he would say? What would be his thoughts on you as a person and a player now?
MARAT SAFIN: No way. No way this is going to happen to me, and for sure not. I would never think in a thousand years that I will be anywhere closer to even to top 100. It was a mission impossible basically.

Just give it a shot, try your best, and just to find your way in life. Whatever happens, happens. I was about to go to the college in the States, so...

Q. So how did the miracle happen?
MARAT SAFIN: It happened, so miracles really happens. I won the lottery. Basically I picked the lottery I would say because of the way things, they fit together. It's amazing. It's really amazing. I really can't describe it. It has no logic, it has no it's just everything fit perfectly together, and here I am.

I'm really pleased the way the life treat me, and the same is pretty it was nice treatment. Tennis was really very nice to me.

Q. Is there any way that the second half of your life could be as interesting as the first?
MARAT SAFIN: I'm sure. I hope. (laughter.)

I'm pretty sure the things are going so smooth like they went right now, so I'm looking forward. You got to be positive about it, so I think good times are still to come.

Q. You had many hilarious press conferences in the past in those 12 years or 10 years. Is there...
MARAT SAFIN: Am I so old?


Q. Is there anything that you regret you said years and years ago, one place or another, that today you would never say it again or not?
MARAT SAFIN: No, nothing. I don't regret anything at all. Things that happened to me throughout the life, whatever I said, whatever I did, it took me to where I am right now. So I think it was pretty nice ride. I didn't really make any huge mistakes.
People are really nice, nice to me. I think like a lot of people sitting here, they still, I don't know, wonder what I'm going to do when I pass by to the next life. I think I've done good things, I think. I've been sometimes I was a little bit harsh on somebody, but I think it's just throughout the years I've been nice to everybody.

And whatever I said, whatever I did, I think was it was a good ride anyway. I don't regret anything at all.

Q. Is this an exciting time in your life, knowing that you're still young and you have your whole future ahead of you...
MARAT SAFIN: This I think is the perfect timing, because I'm still young. I don't have a family. I'm ready to make a change. Why not? I think it's the right time, perfect time, perfect timing. 30 years old, still young. 35, 33, it's already you need to think about some things, something different. A little bit late.
Probably it's a little bit late to do something extra. So basically put everything on cruise control and you just cruise. I'm ambitious. I want to achieve some things. I'm a different than another person who want to lay back and do nothing for rest of the life and talk nonsense on ESPN, talk about my match against Sampras. I will not do that.

I want to achieve something else.


Q. How difficult was to be No. 1? You were young. And then you talk about your sister; she's No. 1. You told us also about the papers writing about your private life. And also you remember Safinettes, the girls?
MARAT SAFIN: Still remember?

Q. So for your sister, it is not the same problem. At least she doesn't have all these boyfriends and pictures.
MARAT SAFIN: Well, everybody is hard on her why she's No. 1. You have this contest issue, is she a real No. 1 or not? You open the page, she made eight double faults, 43 unforced errors. She struggled, almost lost to 18 years old.

Who cares? I mean, she's No. 1 in the world. I have to protect my sister. The poor girl, she's trying her best. She's doing really well. She gets the attention, but not the kind of attention that a person deserves, especially when you're No. 1 in the world.
Everybody is giving her hard time about, Are you really No. 1 in the world? Yes, yes, she's really No. 1 in the world. Go check on the ranking. She didn't do the ranking.

Apparently there is some guy who made the ranking. On this ranking, she's No. 1 in the world. Serena, she didn't say even though she won two Grand Slams this year, she's No. 2. Sorry, but that's the way. Deal with that.


I'm just personally, I'm really like, I have to protect her. I feel like she deserve a little bit more than what she's getting right now. I think she's playing you can't imagine how crazy she is about sport. I don't think there is one person in the world who is more professional than her.

Everybody is like hitting on her and giving her a hard time about this, how many, what happened to this serve, what happened this, what happened with that? Leave her alone. Give her a little bit less questions. So it's just all to you guys. Make her happy. That's it.

Q. Luckily she doesn't have all those boyfriends as you had girlfriends.
MARAT SAFIN: Yeah. Yes, she's opposite of me.
another post match interview video - safin happy to retire
http://uk.eurosport.yahoo.com/video/03092009/58/safin-happy-retire.html

PRACTICE PICTURES

From TGFR credit to Annie
http://guyfromrussia.proboards.com/index.cgi?board=tournament&action=display&thread=1432&page=3
Marat Safin interview to the Russian newspaper "Sport Express" prior to the US Open. Translated from Russian



Marat Safin: "I don't get assigned further than on Court 3 in New York"

US Open will be the last Grand Slam for a Russian tennis player Marat Safin, who will end his career at the end of this season. "Sport Express" journalist managed to interview the player, who has already arrived in New York, where he won a title in 2000.

-How would you evaluate your current form?

Everything is fine in general. I am getting ready for the USO right here in New York. So for now I continue my everyday tennis routine.

-Is there any slight sadness for you as a player considering that this is your last time at this tournament? If you are finishing your career that is.

I am finishing my career, I can confirm that one more time. As for sadness, no, I don't feel anything of the sort. Even though I thought it would be different. I thought the emotions during my last year in the tour would be different. But in reality there is no nostalgia at all.

-Nonetheless, it's pretty obvious that US Open will always be the tournament of good memories considering you won the title here back in 2000.

I like the tournament atmosphere and everything happening here. In addition to that, New York is a very vigorous city, where a lot of my friends live. I have always come here with a positive attitude and my memories of this tournament will always be good ones. New York has been and still is one of my favourite cities.

-If we talked about USO this year in particular. What are your plans: climb as high as you can in the draw or simply enjoy your last Grand Slam?

I would like to enjoy it and not stress out and drive myself crazy with tension and fear when I play. In other words I would love all the emotions I have been feeling for the past 12 years to go away. I would truly like to realize, even if it's with a slight hint of nostalgia, that this will be the last time for me on these courts and I would like to enjoy these thoughts.

-How about combining the pleasant with the useful? You know, if you reached a final here in New York you wouldn't have to finish your career being 58th in the rankings…

We'll see how it goes. If I manage to enjoy myself on courts in New York everything will be alright. I obviously want to stay here as long as possible.

-Are there any opponents in particular you would like to face during USO and are there any matches you would like to avoid?

I don't wish to play anyone in particular. I have the desire to fight any opponent.

-Some time ago after you had won USO you went to St. Petersburg a couple of months later and won a title there. It has already been announced that you will be going to the tournament this year. What are your thoughts about the last tournament in your home country?

As far as my victory in St. Petersburg is concerned it was a long time ago. As for the tournament itself – it has grown throughout the years and now pretty well represents our country in the ATP calendar. As far as I know a lot of players like it and the city on river Neva is loved by thousands of people on this planet, I included. I have been coming here for years and have fond memories of travelling here for junior tournaments. I remember playing in Victory Park there when I was little. Since then a train ride to St. Petersburg has always brought tons of positive emotions. So I have great memories of this city and will always think about it with nostalgia.

-For a long time you were the only player who had managed to win two St. Petersburg titles. Afterwards Thomas Johansson and Andy Murray caught up. Do you think you can go for the third title one last time?

If no top players show up, I have a good chance (smiles).

-When Kafelnikov finished his career, his last official match was during St. Petersburg Open. Is this what you are going to do or are you travelling somewhere else after?

I plan to participate in the last tournament of the year in Paris. I won three titles there and this is where I would like to put an end to my career.

-Let's get back to the upcoming US Open. Who do you think is the favourite to win the title?

As always lately, Federer. He had a great tournament in Cincinnati where he easily defeated Djokovic in the final. So all in all Roger should beat everyone here and secure his number one spot.

-What are the prospects for Russian players here?

Well all our hopes are with Kolya Davydenko because he is the one who has been showing great results in the past 4 years.

-A few years back Michail Youzhny reached the semi-finals here, what are his chances now?

I think a lot will depend on the draw for him. We, Russians, have a lot of uncomfortable players as opponents on the tour.

-What round would you consider a good result for yourself?

Only the title.

-Does it make a difference whether you play on Centre Court or further from it in New York?

Of course it's always great to play on Centre Court. Whether you get assigned there or not – that's not for us to decide.

-How does the New York crowd treat you?

I don't know why but the public here has always treated me well, even before I had won the title. If you think about it, I have never even been further than Court 3 here. That's where I have been playing the past years, thanks to organizers for that.

-Have you thought of what you would be doing after finishing your career?

There are a lot of interesting things in life. The most important thing is to have the time and the will. I already have the second and there will be plenty of the first after I finish my career. One thing left to do is sit down and realize what it is that I want to do.

-Are you going to choose between sports and other fields or are we talking about something sports related?

I would obviously like to stay in the sports industry. I have dedicated my whole life to it and it's the only thing I have gained a good understanding of throughout the years. If would be pretty stupid to start from scratch somewhere else.

-Are we talking about tennis?

I would say sports in general.