Place: Barcelona, Spain
Date: April 23-29, 2007
Draw Size: 56
Surface: Clay
Prize Money: €850,000
Tournament Director: Sixte Cambra
Ticket Hotline:
+34 902 33 22 11
Website: www.openseatbarcelona.com

_________

Press conference
賽後記者會
Defiant Safin not worried about form after Barcelona exit
自恃甚高的薩芬不擔心巴賽隆那意外失利
Simon Cambers
BARCELONA, April 24 (Reuters) - Marat Safin said he was not overly concerned about his recent poor run of form after he made another early exit on Tuesday, this time in the first round of the Barcelona Open.
薩芬表示在星期二於巴賽隆那第一輪早早出局及最近不理想的表現並不太在意 。

The Russian former world number one was beaten 6-4 7-6 by Italian Simone Bolelli, the world number 103.
That followed his second-round defeat by Belgian Kristof Vliegen in Monte Carlo last week, when he squandered four match points, having won the first set 6-0.
俄羅斯籍前世界第一薩芬剛被世界排名103的義大利人SIMONE BOLELLI 以4-6﹐6-7擊敗。前不久﹐他在蒙特卡羅大師賽第二輪時在第一盤 6-0 占有絕對優勢情況下最後負於比利時選手 KRISTOF VLIEGEN。

Safin's win-loss record this year is now 10-8 but the former U.S. Open and Australian Open champion said he was not bothered by his apparent loss of form.
"I don't care," he said. "I am playing well, I am still 26 in the rankings.
"With one good result I will be top 20, but I don't really care about the rankings any more. I just need to stay
focused on my tennis."
薩芬今年的戰續為10勝8負﹐不過這位前世界第一﹐兩次大滿貫-美網及澳網得主表示他並不為糟糕的狀態而困擾。
"我不在乎﹐我打得很好﹐世界排名還是維持在26。如果成績能好些﹐我就會擠進前20了﹐但排名對我而言也不再那麼重要。我只想好好打網球"

Safin's best performance of the year came in the Davis Cup earlier this month when he won the deciding rubber against Paul-Henri Mathieu to give Russia a quarter-final victory over France on indoor clay in Moscow.
On that occasion, Safin barely missed a ball, the kind of form that took him to the top of the rankings and his two grand slam titles.
今年薩芬最好的表現在上個月DAVIS CUP八強俄國在主場紅土對陣法國第五場決定性比賽中﹐順利擊敗法國的P H MATHIEU。那場比賽﹐他幾乎沒有失誤﹐狀態之好跟他的巔峰時期及兩奪滿貫可以對得上。

The Russian's early exits from Monte Carlo and Barcelona cost him the chance to climb the rankings, but Safin said his confidence was unaffected.
"With all of your losses, you try to put them behind you," he said. "There is always next week and it's difficult to play well all the time.
"I couldn't find my game today on the court. It was pretty slippery, and I didn't play my best tennis so that's why. I barely had a chance.
"He was solid, he had nothing to lose. He went for his shots, he was serving well in the tiebreak, he just did his job and he had no pressure at all."
蒙特卡羅及巴賽隆那的失利導致薩芬無法在排名上突破﹐然而薩芬仍堅持他的信心並沒有因此受到影響。
"你要試著將失敗拋諸腦後﹐應該展望明天﹐而且本來你就不可能隨時都打得很好。今天我就是找不到節奏﹐場地很滑﹐我發揮不出來所以就輸了﹐根本就找不到機會。"
"他表現很穩﹐而且沒有什麼好怕的﹐因此大膽進攻﹐搶七時發球也非常好﹐他把自己發揮出來﹐毫無壓力"

Safin's next tournament will be the Masters Series event in Rome, beginning a week on Monday.
"I will just take it easy and practise and do my job," he said
薩芬下一場比賽是羅馬大師杯﹐一個禮拜後的星期一開始。
"我會輕鬆面對﹐好好練習然後去比賽"

_________
1 RD:Marat lost to Simone Bolelli
Marat Safin
4

6





Simone Bolelli

6

7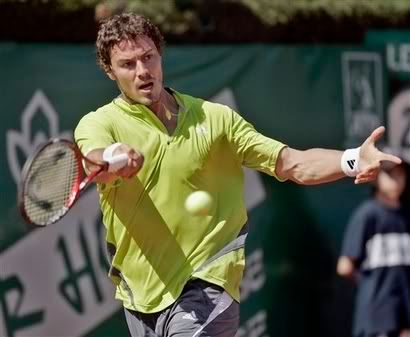 ___________
Marat flew in Saturday from Moscow and is there with his friend Danny Gomez and Miguel Maseo his fitness trainer.
星期六 MARAT 跟朋友DANNY GOMEZ 及 體能訓練師 MASEO 從莫斯科飛抵 BARCELONA。

The draw is out.
Marat is seeded No. 11.
Singles 1st Rd : Marat will play Simon Bolelli (ITA).
They have never played against each other before.


簽表如上﹐MARAT 為 11 種子
第一輪將對陣 SIMON BOLELLI﹐兩人為首次交手。

For some interesting stats for each player for the year to date click here
Doubles 1st Rd: Marat/Dmitry Tursunov(RUS) v R.Lindstedt(SWE)/J.Nieminen(FIN)