Sep 23, 2007
2007 Davis Cup Semi-finals:
戴維斯杯四強:俄羅斯與美國將爭冠

Russia bt Germany: 3-2

USA bt Sweden: 4-1

VAMOS RUSSIA INTO THE FINALS !!!!


Signing and taking pics for fans
Russia's tennis players Marat Safin, right, watches the Davis Cup semfinal match between Russia's Igor Andreev and Germany's Philipp Kohlschreiber in Moscow Sunday, Sept. 23, 2007. (AP Photo/Ivan Sekretarev)

Sunday 23rd September 2007 Marat was there to support his fellow Russians as they won through to the Final of Davis Cup. Russia will play the USA in the US in late November.
---

Igor won the 5th deciding point against
Kohlschreiber
!!!
Dima using spoon and pot to cheer!!!!! So cute!!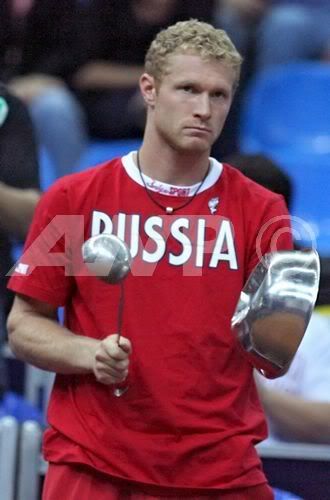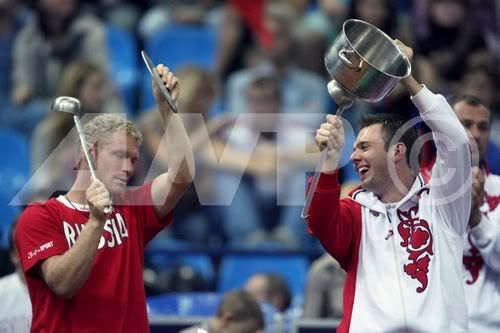 posted by JS at 9/23/2007 0 comments  

Sep 18, 2007
Cho Oyu (Himalaya) Expedition
卓奧友峰(喜馬拉雅山)探險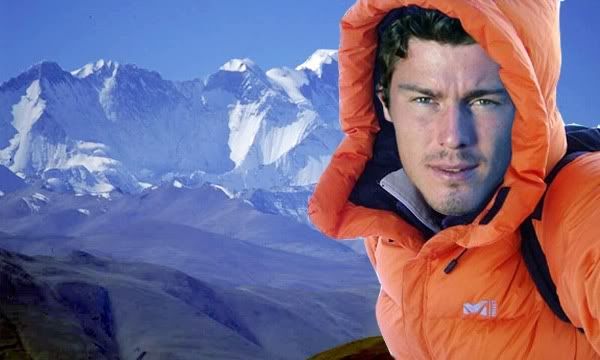 from www.maratsafin.com, the official website
Message for all the fans about news from Marat relayed by Amit
透過Amit Marat 給大家的最新訊息


Wednesday 19 September
Dear fans
I am writing this letter on behalf of Marat who has been in touch with me in the last 48 hours and asked me to pass on this message to you all.
過去48小時我們一直在密切聯系﹐此刻我代替MARAT 向大家傳話。
As you know Marat has taken an interesting step because of various reasons which he explained in his letter to you last week. And it has been an adventure - doing his acclimatisation climb and getting used to all that is part of climbing mountains.
如各位瞭解﹐MARAT 因為種種原因而決定參加登山活動。這是一場有趣的歷險記﹐登山越峰﹐適應各種登山的問題。
The delegation has reached the next height of moving to the base camp for Cho-Oyu and at this stage Marat has realised several points.
登山隊已經到了CHO-OYU 的更高處準備紮大本營﹐而此時 MARAT 才查覺一些關鍵事項。
First of all Marat realised that this climb is a very serious challenging issue and not just an adventure. He loves the experience and is fully into it but realises that it has to be treated with great caution and respect. And the next step is a very big one indeed.
首先MARAT 認知道攀頂是非常艱困的事﹐不單純只是有趣的冒險。他熱愛這樣的經歷也很投入﹐但同時也漸漸發現這個活動的嚴肅及神聖性﹐而接下來所面臨的將是更大的挑戰。
Talking to me and to the people he is closest to in the delegation and his coach via satellite phone - he has decided that the smartest and bravest decision for him is to step down and to start a very long 5 day trip back to travel down the mountains and back to Moscow.
在跟我﹑其他親近的隊友及他的教練透過衛星電話商談後﹐他作出了最明智且勇敢的決定﹐放棄繼續攻頂﹐啟程為時五天的下山行程﹐回到莫斯科。
In Moscow he will meet next week with Hernan Gumy and after a week recovering from the altitude, he is meant to start practising again in about 2 weeks time. The wrist is well rested and all being well he will hopefully play again in Madrid.
於莫斯科下禮拜他會跟教練GUMY 會面﹐經過一星期海拔高度的調整適應期後﹐他於兩禮拜內會開始恢復訓練。MARAT 的手腕沒有大礙﹐休養生息後希望他能再到馬德里比賽。
Marat doesn't believe he will be ready in time for the Kremlin Cup although he would like very much to play there. He needs time to recover from what has been an exhausting experience. From my conversations with him I was happy to discover that he has had a tremendous time and it was a fascinating experience.
MARAT 即便很想參加 克林姆林杯﹐但估計大概準備不及。這次的探險消耗太多體能﹐他需要時間來恢復。透過談話﹐我很高興他享受爬山的時光也十分珍惜這種特殊的經驗。
Now it would be Marat's main concern to be healthy and play professional tennis again soon as he misses it very much. We can soon expect to see Marat back on the circuit hungry for success and with a new fresh look at tennis.
現在MARAT 最在意的是維持健康﹐趕快回到網壇比賽﹐因為他很想念網球了。我們很快能看到一個積極求勝的MARAT 歸隊﹐並以全新的風貌呈現給球迷。
I know it is very important for Marat to pass this message on to his fans and to say they will now be able to see him in the last part of the Indoor season and I can do this with delight.
我知道幫MARAT 傳遞這個消息非常重要﹐而且我也很歡喜地向球迷們宣布﹐年底的市內賽季又可以看到MARAT了。
Marat wants to thank all the great and amazing people in the delegation and his wishes that they will complete the challenge to the end.
MARAT 要感謝探險隊裡的隊友﹐也祝福他們攻頂順利成功。
While Marat is starting his long trip back - his fellow Russians will be playing in the DC semi finals against Germany and he sends wishes to them from the bottom of his heart for great success.
在MARAT 下山的路上﹐他的同胞選手將要在DAVIS CUP 四強迎戰德國﹐而MARAT 亦獻上誠摯的祝福及光榮的勝利。
Best Regards
Amit
Latest pics
from www.7summit.ru
online translation from Russian to Englsih

In SHIGARE WAS PERFECTED ONE ADDITIONAL ASCENDING Yesterday, 17th September, after moving the crossing with a height of 5100 it is meter, on which all little by little caught weak "gornyashka" (mountain disease), our command went down into the very exotic town Of old Of tingri (4200m). Directly sheep flourishes here are dried on the street and cows eat the remainders of cardboard boxes. After dinner they moved into Shigar (4200m), where they spent the night. _ today in us on plan acclimatization be perfect ascending on apex Wigar (4700m) - practical height Mont Blanc (high apex Alps). _ in base this mountain Buddhist monastery located. _ near apex even arrive polazat6 on strong destroyed cliff, but glory god everything manage.
We photographed at the apex. All made friends with Marat and it excellently is entered in the command. Weather in the Himalayas warm but unstable and us from the apex drove away the incipient thunderstorm. On 20 September we leave into the base camp To cho-Oyyu, where us await tents and accurate sherpy. From the base camp to the foremost base camp probably we not had connection. So that let us transmit news at the first opportunity. Abramov Aleksandr from Shigara (4200m)
MARAT'S LETTER TO FANS from Katmandu
MARAT 從加德滿都捎給球迷的信
9/14 taken at Katmandu

To all my fans out there - I am writing to you from Katmandu.
Yes a lot of you have heard already that I was on my way to my exciting adventure to climb Cho-Oyu, a mountain in the Himalayas in the Tibet.
I feel it is important for me to fully describe to you what has been going on with me in the last few weeks as well as what are my future plans.
我所有的球迷們﹐此刻我在尼泊爾加德滿都寫信給你
是的﹐相信很多人都聽說了﹐我正要展開一場興奮的探險﹐登上 CHO-OYU﹐位於西藏境內的喜馬拉雅山。我想我必須詳細跟大家說明過去幾個禮拜的心路歷程和我未來的計畫。
It is you guys who have always been an important role in my career and always been there to support me through difficult times and the oh so sweet victories. We have shared lots of times.
在我職業生涯裡﹐你們從來都是如此重要﹐不計一切地支持我度過最艱難的時光﹐也同享勝利的甜美。我們一起經歷了風風雨雨﹐喜怒哀樂。
As you will remember I started the US Hardcourt season in Los Angeles where I also began my association with my new coach Hernan Gumy.
大家都知道今夏北美硬地賽季時﹐我在LA 公開賽開始跟現任教練GUMY 合作。
I would personally like to say that the co-operation with Hernan is an excellent one. I think he's a great coach and I'm delighted with the work we do together. It is only thanks to the confidence I have in him that has allowed me to go ahead with this step that I have taken and to be where I am now.
我們的合作關係很棒﹐他是個了不起的教練﹐我對於合作的成果非常滿意。這一切要感謝我對他的信賴﹐我們才能攜手合作﹐也造就今日的我。
Through out the 8 weeks in the US we really tried to work on my game again. To change my game tactics to where I will be playing again my old tennis style meaning playing faster tennis, shorter points, hard hitting and playing more on the baseline rather than playing two metres away from it as I felt I was playing the last 1 and 1/2 years. I really did feel that things were improving but unfortunately through the 1st round match at the US Open - I felt again the pain in my left wrist - the same one that first started bothering me in 2003. At first I wasn't too bothered with that but during my 2nd round match, the pain got me out of focus and I felt that instead of concentrating on the match, I was solely thinking of the implications of going through all the pain and problems again.
在美國八周期間﹐我們不斷努力要找回我原有的球風。改變現狀﹐再重拾原來的我意味著速度要快﹑取分也快﹑強力擊球﹑並且要守在底線而不是像過去一年半那樣退後底線兩公尺的樣子。在訓練的過程中﹐我確實覺得進步很多﹐但不幸地美網第一輪後﹐左手腕開始痛了起來﹐感覺跟2003年傷病發作初期很像。起初我沒有太在意﹐但是第二輪時﹐疼痛使我頓失注意力﹐我根本無法專心比賽﹐滿腦子盡是我的傷勢會如何加重﹑所有的問題將接腫而來的窘境。
My orthopeadic surgeon Dr. Feder from Los Angeles - flew into New York and examined me after the match. His diagnosis was a relief for me. He said I will only need 4-6 weeks rest. Luckily no extra damage had been made and I should be completely fine after that.
賽後我的醫師 FEDER 從LA 飛到紐約來﹐診斷結果讓我鬆了一口氣﹐他表示我只需要休息4-6周即可。所幸病情沒再加遽﹐休息之後我應能恢復正常。
Talking with my coach we have realised that this season is over for me and we have made plans which I would love to share with you with regard to the preparations for coming back to next year a better player and stronger and in overall better shape.
在與教練討論之後﹐我們不得不認清今年賽季只能喊停的事實﹔我們擬定了計畫﹐在此我想跟大家分享我們的想法﹐我們怎麼為明年更佳的狀態復出而準備。
When I got back to Moscow and my doctors in Moscow confirmed the same as Dr. Feder, the opportunity occurred to me to join the mountaineering delegation which includes some of my closest friends and I felt for the first time that this is something I really want to do outside of my tennis career.
回到莫斯科後﹐莫斯科的醫師跟FEDER 醫師的看法一致﹐恰巧有好朋友提到爬山探險的機會﹐而這也職業網球生涯外﹐第一次強烈感受到自己真正想做的事。
This is not some simple vacation on the beach. I know that the physical challenge of climbing is huge. With the unique atmosphere and being away from civilisation - hopefully this will renew my resolve and my powers for tennis.
這可不是輕鬆在海灘的度假﹐我十分清楚登山對於體能是極為嚴峻的考驗。但希望在那絕無僅有遠離一切文明的氛圍下﹐我能藉此重生﹐從而找到在網壇繼續競爭的決心與力量。
I want this to be a special experience and it is something which deep down inside I wanted to do for a long time.
我由衷期盼此次登山探險能成為人生難得的經歷﹐而且不知從何時開始﹐我內心始終渴望能實踐這一切。
Before leaving on this expedition, I ensured to close a deal with Gumy until the end of 2008 and only after he agreed and supported me in taking this step did I feel happy to carry on with my plans.
在前往探險前﹐我跟GUMY 續約至2008年底﹐也因為他的體諒和支持﹐我才能快樂地去進行自己的計畫。
I have planned to be away for 4-6 weeks. I am truly very sorry that I will be missing the Davis Cup semi final tie which I am sure my fellow countrymen will be able to overcome even without me. At least I can say I have contributed a bit to the efforts with my trip to Chile in the beginning of the year and in the 1/4's against France I played a small role in beating Mathieu.
我打算休息4-6周﹐無法參加DAVIS CUP 四強實在很抱歉﹐但我深信即便如此﹐同胞選手們也能順利為國爭光。起碼﹐我可以說﹐在年初面對智利及八強面對法國打 Mathieu﹐我都有略盡微薄之力。
Gumy and I are meant to get together in Moscow at the end of October to start practising and in early November we will fly to Valencia and possibly to South America to get properly ready for the new challenge in 2008.
十月底我跟GUMY 會在莫斯科會回﹐開始訓練﹐十一月初我們會一同前往VALENCIA﹐也可能到南美為2008年賽季而努力。
I can assure you all my friends and supporters that I still have in me the desire to try and make it again to the top of this game and I hope that all of you guys will be there to support me in my efforts to this.
朋友們﹑球迷們﹐我向你們保證我仍渴望嘗試﹑重回巔峰﹐希望大家届時還是能如以往一樣支持著我。
I will definitely miss you all in the next few weeks and I ask you to support and cross your fingers for the success of my fellow Russians in the team in the Davis Cup semi final.
未來幾個禮拜會很想念各位﹐我請求你們幫俄羅斯加油﹐也為我的同胞祈禱 DAVIS CUP 四強得勝。
I will see you all again real soon.
不久再見囉
From me somewhere above the roof of the world.
我在世界某處的頂端
Peace to you all
願大家一切平安
Marat
馬拉特
_____________
Itinerary
行程規畫
Day 1 Arrival in Kathmandu and accommodation in hotel.
Day 2-3 Day in Kathmandu, getting group Tibet visa.
Day 4 Drive Kathmandu/Zangmu (2350 m)
Day 5 Drive to Nylam (3750 m)
Day 6 Rest day at Nylam for acclimatization
Day 7 Drive to Tingri (4200 m)
Day 8 Rest day at Tingri for acclimatization
Day 9 Drive to Cho-Oyu BaseCamp (5100 m)
Day 10 Rest day at Cho-Oyu BC
Day 11 Trek to interimediate camp (5400 m)
Day 12 Arrive at Advance base camp (5700 m)
Day 13-35 Preparation for climbing and climbing Mt. Cho-Oyu
Day 36 Trek back to Base Camp
Day 37 Drive back to Kathmandu
Day 38 Day in Kathmandu (reserve day)

2007/9/16
They have crossed Nepal-Tibet border, but one guy was sent back to Katmandu to get right entry visa. This guy will join them later (he'll go with other group), the rest are going as planned. The road to their next point is opend only from 1am-6am, that's why they will have to spend the night on the road (it's not because they can't sleep in the hotel
by the arrival of the command to establish base camp on height 5100m.

New pictures taken at Katmandu
Russia's tennis player
Marat
Safin
sits in a restaurant in Kathmandu September 14, 2007.
Safin
will bid to scale the world's sixth highest mountain, giving the former world number one a fresh challenge which looks set to rule him out of this month's Davis Cup semi-final against Germany.
Safin
is part of an eight-member Russian expedition which is due to leave Nepal on Friday to climb Cho Oyu, the 8,201-metre mountain on the Nepal-Tibet border, a Nepalese hiking official told Reuters.
_________________________
(have a good time, Marat !!)

September 11, main part of members "7Summits Club – Alpindustria" expedition came to Nepal. This team will climb under the leadership of Alexander Abramov. The aim is to climb the sixth highest mountain in the world by classic route from Tibet side.
In expedition take part Russian Tennis star Marat Safin.


Expedition members:
Alex Abramov – guide and leader (9 Himalayan expeditions, 2 times Everest Summiteer, Cho-Oyu Summiteer)
Dmitry Moskalev – co-leader (5 Himalayan expeditions, Everest and Xixapangma Summiteer)
Alexander Chesnokov – co-leader assistant
Yury Beloivan
Konstantin Zhelezov
Igor Kosarev
Evgeny Semenov
Marat Safin – Russian Tennis Star
For Marat Safin this is the 1st mountain in his life.
Hopefully to his many victories in tennis Marat will add one more victory on the 6th highest mountain in the world.
Video of Marat in Nepal
http://polisea.net/blog/?p=621


DIARY OF THE EXPEDITION: DAY OF THE SECOND....


12 September. There was today the day of the purchases of equipment all necessary individual equipment they verified and they were dismantled with the fact, what does not be sufficient.
In the evening we were invited to the roof to our friends to Igor and cat (to leaders of tourist company, which assumes in Nepal), where they relaxed scrutinizing the fires of katmandu.

they tomorrow us invited into the Russian embassy...

Aleksandr Abramov, the leader of the expedition of the "club of 7 apexes - the commands of the adventures Of al'pindustriya" to Cho-Oyyu (8201m, the sixth apex of peace).
Yuri beloyvan and Marat Safin in the store of the equipment
Visit "to the roof" to Igor and the cat
from atptour.ru
before departure,taken with pals in Moscow
left to right, expedition member, leader,mountain guide, Marat
posted by JS at 9/18/2007 50 comments