TENNIS CHANNEL OPEN

FEBRUARY 25–MARCH 4, 2007
32 DRAW ROUND ROBIN
http://www.tennischannelopen.com/

Qualifying draw: Friday, February 23, 9:00 p.m.
Main draw: Friday, February 23
Doubles draw: Saturday, February 24, 6:00 p.m.

ATP Ranking Points/ATP Race Points
W: 175/35
F: 120/24
SF: 75/15
QF: 40/8
Round Robin Win: 20/4
Elimination Win: 10/2
Q: 5/1

Best wishes to Marat on Indian Wells.........
sigh..........
___________


Semi-final: Marat lost to Hewitt




Beaten Safin content with progress
By Simon Cambers

LAS VEGAS, March 3 (Reuters) - Marat Safin lost in the Las Vegas Open semi-finals on Saturday but was still content with his progress going into this month's back-to-back Masters Series events.
The Russian was beaten 7-5 6-1 by Australian second seed Lleyton Hewitt on Saturday but having struggled for form over the first two months of the year, Safin believes he is on the right track.
"It has been pretty good for me," Safin told reporters.
"I didn't play that well in San Jose but now I am hitting the ball pretty well, I just have to work on a couple of things and be a bit patient, not go for too much.
路透社 (3月3日)-星期六薩芬於LAS VEGAS 公開賽止步四強﹐但對於自己進步的情況帶著信心進入下禮拜開始的兩場大師賽。
星期六俄羅斯人於星期六被第二種子以7-5﹐6-1擊敗﹐然而歷經年初兩個月的掙扎﹐薩芬相信自己的狀態在正面回昇。
薩芬告訴記者"這一陣子我狀態不錯"。
"在SAN JOSE 我打得不是太好﹐但是這是很好﹐就是有些地方還要加強﹐再有耐心一點﹐不要太急躁"

"I think the way I am hitting the ball is pretty good. I made the quarter-finals (In San Jose) and semi-finals (in Las Vegas). Maybe it is not unbelievable, but for me it is pretty good."
Things looked promising for Safin when he broke Hewitt in the opening game of the match but the Russian said his opponent had served well when it mattered.
"I had my chances," he said. "But he came up with good shots at the important moments and he was serving well. I was trying to play maybe too fast, that's why I made a few mistakes."
Good performances in Indian Wells and Miami this month would see Safin return to the world's top 20 from his present ranking of 24.
The Russian said he would be relaxing before making the journey to California for the first of the two Masters Series events.
"I will take two days off and just enjoy Vegas," he said.
"我覺得自己現在擊球狀態很好。先後打進八強及四強。也許這並非不可能﹐對我來就是很正面的訊息"。
在球賽一開始薩芬馬上破了HEWITT 發球局﹐情勢一片大好﹐不過薩芬表示對手在關鍵分數上時球發得很穩健。他說"我有機會的﹐但是他在重要時刻擊出不少好球﹐而且發得好。我可能太急了﹐所以犯了一些失誤 "
如果在這個月的INDIAN WELLS 及 MIAMI 表現良好的話﹐薩芬極有可能從目前的24名回到世界前20。
俄羅斯人說在前往加洲的大師賽前﹐他打算休息放鬆一下。
薩芬表示"我要放兩天假﹐好好享受 LAS VEGAS 這城市"

_______
Quarter-final result

Fernando Verdasco
1
4






Marat Safin

6
6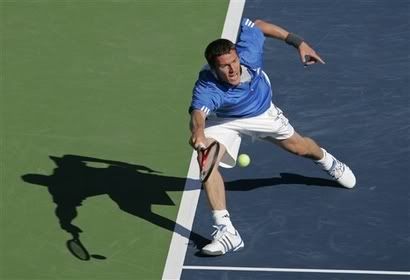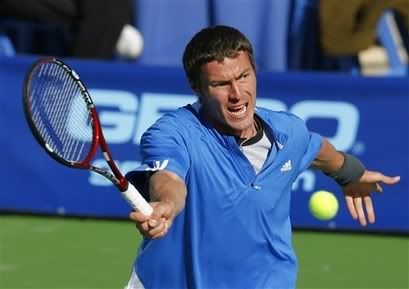 ____________
2nd Match result:

Marat Safin
4
7
7


Igor Kunitsyn
6
6
5
________________
1st Match Result:
S. Koubek



5

2





Marat Safin
7

6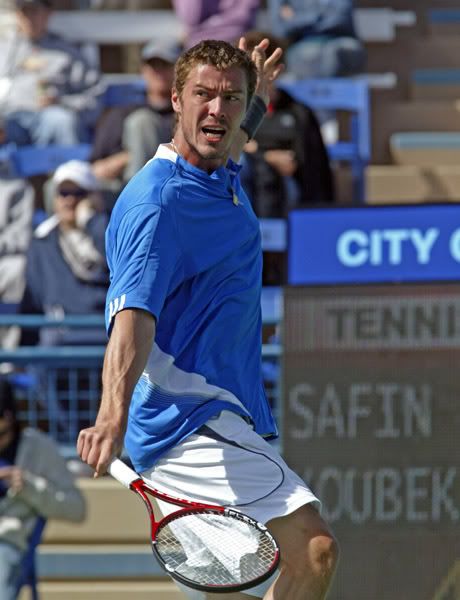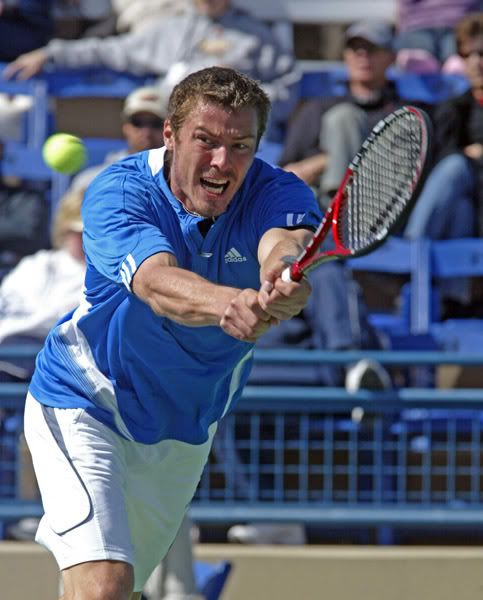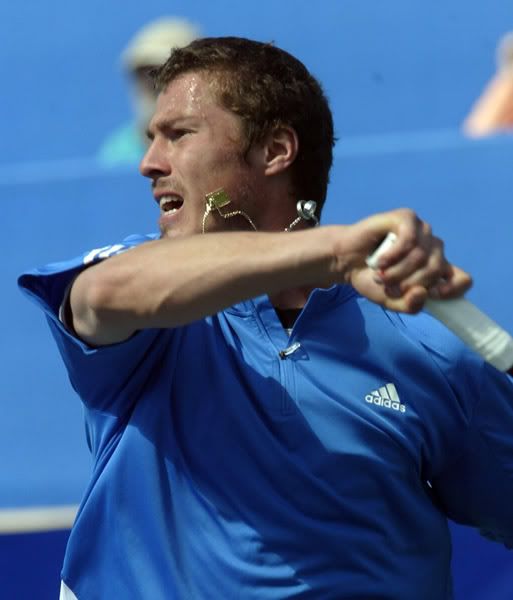 _____________________

We have managed to catch Marat after his arrival in Las Vegas and Marat answered some of the questions that for sure will be interesting for his Fans
http://dara-safin.skyblog.com/pics/737198874_small.jpg


Q. Hi Marat, welcome to Los Vegas

A Thank you very much. I had a great drive from Los Angeles.

Q We heard you also drove from San Jose to Los Angeles, why is that?

A I am not too crazy about flying and when I have time I enjoy driving and seeing
places. I drove on route no 1 to Los Angeles which was very nice and took photos
in Carmel and Monte ray , and the 17 miles drive and all in all it was a very
pleasant experience .

Q How was your week of practice in Los Angeles?

A I think it was very good. I worked hard with Miguel, my fitness coach, and it
helped me to adjust to the pace of the hard court. In San Jose I started the
tournament with hardly any practice because of my late arrival from Davis Cup.

Q When is Volkov joining you?

A Sasha and Sergei my doctor, will arrive on Friday in California and will work with
me in Indian Wells and Miami.

Q How are you enjoying Las Vegas so far?

A I've been here before. It's a fun place but I truly care more about the tournament
than the rest of the stuff that his city has to offer. I look forward to a great week
and hope to see some of my fans in the stands.

Well Marat, we wish you lots of luck in the tournament and best wishes from all of your Fans.

A. Thanks a lot and thanks to my Fans for all of their support.
_____________________
MAIN DRAW ELIMINATION
ROUND-ROBIN

GROUP 1
(1) BLAKE, James (USA)
DEL POTRO, Juan Martin (ARG)
DELIC, Amer (USA) or KOROLEV, Evgeny (RUS)

GROUP 2
(6) BENNETEAU, Julien (FRA)
GOLDSTEIN, Paul (USA)
(WC) QUERREY, Sam (USA) or QUALIFIER

GROUP 3
(4) MELZER, Jurgen (AUT)
LLODRA, Michael (FRA)
LU, Yen-Hsun (TPE) or QUALIFIER

GROUP 4
(8) BECKER, Benjamin (GER)
GINEPRI, Robby (USA)
HERNYCH, Jan (CZE) or (WC)

KUERTEN, Gustavo (BRA)--GUGA!!!!!



GROUP 5
(5) VERDASCO, Fernando (ESP)
MATHIEU, Paul-Henri (FRA)
KENDRICK, Robert (USA) or QUALIFIER

GROUP 6


(3) SAFIN, Marat (USA)


KOUBEK, Stefan (AUT)
KUNITSYN, Igor (USA) or DANCEVIC, Frank (CAN)

GROUP 7
(7WC) HENMAN, Tim (GBR)
MAHUT, Nicolas (FRA)
LOPEZ, Feliciano (ESP) or QUALIFIER

GROUP 8
(2) HEWITT, Lleyton (AUS)
SPADEA, Vincent (USA)
JOHANSSON, Thomas (SWE) or PHAU, Bjorn (GER)

1 Blake, James USA 5
2 Hewitt, Lleyton AUS 19


3 Safin, Marat RUS 27


4 Malisse, Xavier BEL 30
5 Melzer, Jurgen AUT 32
6 Verdasco, Fernando ESP 35
7 Benneteau, Julien FRA 36
8 Mathieu, Paul-Henri FRA 47
9 Ginepri, Robby USA 52
10 Mirnyi, Max BLR 53
11 Becker, Benjamin GER 57
12 Koubek, Stefan AUT 63
13 Tipsarevic, Janko SRB 64
14 Mahut, Nicolas FRA 68
15 Goldstein, Paul USA 70
16 Spadea, Vincent USA 71
17 Johansson, Thomas SWE 72
18 Del Potro, Juan Martin ARG 73
19 Hernych, Jan CZE 75
20 Lopez, Feliciano ESP 79
21 Pless, Kristian DEN 81
22 Phau, Bjorn GER 82

23 Kunitsyn, Igor RUS 84

24 (SE)
25 (SE)
26 (WC) Henman, Tim
27 (WC)
28 (WC)
29 (Q)
30 (Q)
31 (Q)
32 (Q)